CircleLytics Dialogue is widely used in education. CircleLytics is based on the science of collective intelligence and dialogue dynamics. People in the online dialogues are not rushed by a workshop or digital session of one or more hours but can reflect on their and mostly others' answers, over several days, through two asynchronous online rounds. No video sessions, no survey, but actual dialogues. Dialogues teach us to see each other's perspectives, it creates nuances and leads to new common insights. That requires attention and time to reflect. The dialogue method enables quick group-supported decision-making, in a matters of days to a few weeks.
This blog is about the different ways that dialogue is applied in the field of education. The dialogue method has been applied at institutions such as Leiden University, University of Amsterdam, Breda University of Applied Sciences, Amsterdam University of Applied Sciences, ROC Mondriaan, InHolland University of Applied Sciences, Avans University of Applied Sciences, Kentalis (Special Education) and many primary and secondary schools. Working with groups ranging from dozens to thousands of participants.
Read more about one educational organization's road to better performances "The dialogue feels like a true victory."
Key reasons why the Education System applies CircleLytics Dialogue
Democratize decision-making
The reason for using CircleLytics Dialogue is usually that organizations want to shape their participatory policy, improving their democratic work processes. Sometimes this is prompted by a direct reason: students or employees who exert pressure and express their opinions, but do so in a disorganized manner, or at unforeseen moments. That type of feedback is usually not very useful. You do not want small biased groups, which may not be representative, to dictate the agenda with their behavior, whether or not through (social) media, a joint signed call for action or a letter, etc.
Innovation: moving forward
Another reason is that organizations want to innovate, look for new forms of work. This is driven by three factors in particular. Firstly, remote working and the development of online education is forcing us to look for new forms of work. This is done to stimulate collaboration, learning and listening, brainstorming, decision-making, implementation, and accountability. Secondly, existing forms of working, such as a group meeting or sending out surveys, have already been digitalized. Technology such as the online dialogue puts people and their interactions about issues at the center of the discussion, and makes it possible to scale this up to tens of thousands of participants. This is what we call co-creation. The power of collaboration plus the power of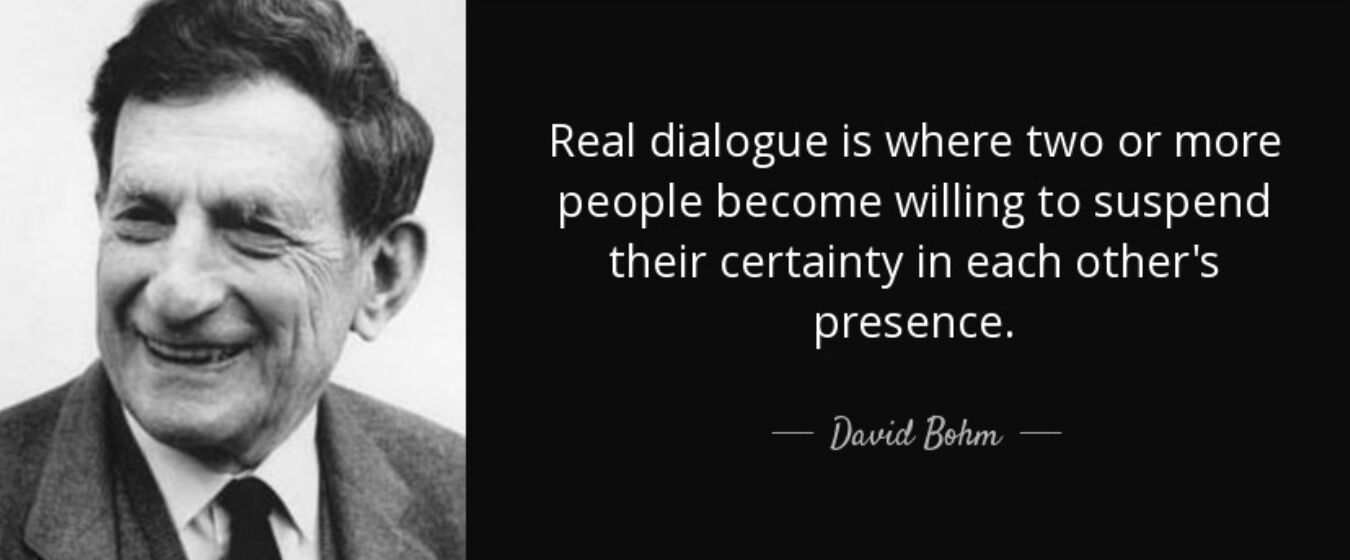 digital possibilities unlocks the special, collective intelligence of groups of people. If you want to consult more (scientific) backgrounds on this subject, you can do so here, or by reading the book 'On Dialogue', by physicist and philosopher David Bohm.
Policymakers, teachers, employees and students are tired of filling out surveys. This fatigue is not because they receive so many surveys, or the length of the surveys. Our records, and research by institutions like Gallup, shows that they are particularly annoyed by the closed questions. The lack of interest in the participants' actual personal opinions and experiences has an opposite effect: it has seriously damaged the reputation of surveys as a means of reaching people. People love getting attention and being taken seriously. Through social media, they have become accustomed to the democratic process of voicing your opinion, and they don't expect any obstacles when doing so. This means that, for participative and representative decision-making, and to create broad support for your decisions, you should not wait and see how and where small groups of people express themselves. You should be the one actually organizing this information gathering. Technology allows you to do this with large groups, even with many thousands of participants. Clients in education and other sectors are looking for new ways to conduct high-quality, more reliable but also scalable, research.
Read here also our blog over 'Which working  method? Meeting or Dialogue?'
Leadership & the intelligence of the collective
The third factor is related to leadership, and to modern views on the engagement of employees, teachers and students. The idea is to modernize leadership styles to better address issues in which employees play a more determining role than previously thought. Subjects such as listening to the organization, deep democracy, serving leadership, but also agile leadership are playing an increasingly important role. This requires new resources; you cannot solve new challenges with old resources.
We often work for organizations that understand the concepts of deep democracy and expect us to apply it. The minority opinion is actively not oppressed by the majority. This is important to maintain a balance and keep the dialogue going. This means that people can learn from each other, and can jointly and in stages achieve something better. Check out how Sandra Bouckaert, DD expert par excellence, applies dialogue and digital implementation of deep democracy. We work for institutions with a wide range of leadership styles and cultures. As a result, the topics may be asked differently by customers. It can range from "we are planning on ABC, what obstacle could hinder its implementation and how do we remove that obstacle?" (especially top-down, bottom-up for implementation) to "we ask you to brainstorm with us about XYZ and jointly determine the most supported choices" (bottom-up policy and decision-making).
For inspiration, we share these case studies with you. These are actual examples from education practice; they demonstrate how to unlock the power of collective intelligence, the wisdom of the group, and enjoy the combined benefits:
people like to take part: they enjoy being allowed to give their opinion and learn from each other
you can gather more and reliable insights in just a couple of days, two weeks at the most
you prevent your organization from going into 'resistance mode' because you have shown openness
no analytical background is needed to understand and use the results immediately.
1 Policy-making
You can involve hundreds or even thousands of participants in formulating policies. You can appeal to the people who are the real eyes and ears of the internal organization and the external market. By doing a broad inventory, you prevent yourself from relying on the usual suspects and allowing bias and established assumptions in your new policy, without re-examining them first. You can perceive developments in the environment – such as opportunities, threats, new options, internationalizations – faster and better when you see them through the eyes of many, rather than just your own. Except, of course, if you want to let your view of things dominate for some reason. For example, you can ask about these new developments, how they see things in 5-10 years' time, what the institution must retain and why, which spearheads they see for this and that, etc. In this phase, you probably tell participants that your explorations are just that, and that you are not yet making decisions. That could be the next phase, in which you use the dialogues to ask for support, thus organizing support for your intended policy. Sometimes participants are asked about a 'potentially insurmountable objection' and, if supported by others in the second round of the dialogue, this will lead to some very welcome adjustments.
A closely related topic:
2 Policy evaluation and adjustment
The purchase of a new bicycle shed on campus is a quite static affair. There is not much opportunity to adjust any decisions on this subject. You can retrieve online input and ideas from a group and have those influence your decision. You build it and that's that. However, most decisions affect the context in which the decision was taken. And the context itself is likely to change. What's more, your decisions will encourage new behavior. Either it leads to positive behavior to implement what has been decided on, or it causes negative behavior you didn't take into account. If you involved people during the dialogues in the development stage of policy-making, you knew beforehand where you'd encounter resistance and where there would be support, and you would have taken both sides into account. This prevents opposition afterwards. But if you didn't, you might also have to deal with potentially serious new and negative behavior.
In short: non-static issues are dynamic, to some degree, so you stay alert. How? By asking those involved about what is having a visible effect, what requires some attention or tightening, and what can be improved. This makes it easy to adjust, quickly and with support. In addition, you and the stakeholders can detect early and regularly where new risks arise and whether they have observed changes that may have an impact. This way, you will not be surprised by any development, and you will remain in control of the situation.
3 Educational programs and quality
Clients test whether educational programs are sustainable. They want to know how education connect to the business world, how quality is assessed, what can be improved, does it attract students, would researchers and teachers want to participate? Our clients in education ask their internal and external stakeholders for feedforward. They combine this with the numbers about the students' influx and outflow, student satisfaction, teacher retention, success and drop-out rates. They gather feedback and feedforward from alumni and the business community. Both groups greatly appreciate being more engaged, feeling more involved, and sharing what they see and know. The institution can emphasize and even develop new modules and program components based on co-creation with its stakeholders. Several clients are using the platform.
4 Graduation, research, PhD
Students must do research. To this end, they use methods for testing hypotheses, etc. Accurate data is critical. They mostly use interviews, and above all they use surveys. However, people suffer from 'survey fatigue'; the number of responses is decreasing and surveys tend to create bias. Those with the most outspoken opinions may be those who, through closed questions, experience that you do not take them seriously. In that case, you lose the most important insights, and your response comes from the remaining group. This undermines the reliability of your research. For each research or project you set up through the platform of CircleLytics, you will determine per question which scale is applicable, whether you explicitly ask for an open answer, and whether you start that unique second round. You can also use the platform to ask 'regular' closed questions, such as profile questions that are often required for research. CircleLytics Dialogue offers the functionalities that the most advanced survey tools also present, but on top of that, it offers something unique that the others don't: the processing of open answers in a second dialogue round, where others assess and rate those answers on their substantive value.
The platform is also used to co-create research goals, determine focal points and set priorities with as many participants as desired. This often includes external stakeholders or foreign collaboration partners. That, too, is something you can achieve digitally, but not physically.
5 Modern leadership and human capital policy
From the perspective of leadership and modern human capital policy, you want your organization and projects to be handled differently than before. You'll want to do away with the old 'survey' method, or add deeper layers to it. Employees want to be involved; they want to be taken seriously, and leadership wants to respect and take into account everyone's diversity of thoughts. You want to invest in employee engagement and experience. Our clients have noticed that regular dialogues strengthen these important objectives and increase people's willingness to stay with the organization. By asking questions about how they experience equal opportunities for themselves and others, how the culture can be improved, the elements they are proud of, what are surprising reasons to stay or leave, etc. The dialogue respects and embraces the diversity of thought; it is 100% inclusive. It asks everyone's opinion anonymously. This creates a culture that motivates work and collaboration, a culture where you lead and learn the common language of the organization, the shared values, etc.
In line with this …
6 Research among & engaging of students
Don't forget: surveys are no longer popular. However, asking essential open questions and some scoring questions is. This relatively straightforward step provides qualitative insights that survey platforms such as Qualtrics and SurveyMonkey cannot offer. That is one of the reasons many of our clients are using our services, in addition to or replacing these platforms. They are applying CircleLytics' better options, not in the least because we managed to make 'participating in research' fun again. And if it's fun and valuable (because of the unique and critical 2nd round), you can approach and engage students more frequently. You can ask them to provide feedback/feedforward on lectures, teachers, websites, catalogues, education, practical work, events, campus setup, etc. Focus on mainly open-ended questions, only a few at a time and learn from their qualitative insights.
Curious? Plan your demo or just an exchange of thoughts with the CircleLytics team here.
7 Don't forget the alumni!
The alumni are underrated. They are very sympathetic to your institution, have built a strong working life, and represent a diversity of organizations. It is a great opportunity, exploring their continued learning needs and learning more about the market trends and developments. This enables you to improve your relationship with them, collect valuable content and use the information about the changes they notice in their working life. You can also discover what they consider valuable events and why, so you can improve attendance.
8 Recognition and appreciation
This is a tricky topic for institutions. Various institutions are investigating and developing policies on this topic with their staff. The second round of the online dialogue ensures that participants listen to each other's opinions, learn from them, rate their appreciation and provide useful explanations. Any nuance in difficult debates is based on a diversity of perspectives. Don't forget: a new policy can have significant new, unknown effects on behavior. In turn, this behavior can affect quality, culture and retention. Research can also lead to lingering discontent due to forces that are only emerging after you introduce new policies. We therefore recommend regular checks for recognition and appreciation and how these aspects are perceived. Which elements are considered consequences, and which are opportunities to adjust?
9 Let's not forget about the primary process: education
Using CircleLytics, you can set challenges for groups of students or pupils. The challenges you set them, and the solutions they come up with, are discussed during multiple rounds. They get to apply what they have learned in practice right away. As a teacher, you get more grip on sustainability. You can ensure your students and pupils can really grasp the theory of the concepts. You also see how they approach, solve, and think about your challenge. That makes them better prepared for a future that is more digital and requires virtual collaboration with new technologies. So, it's best to start early!
10 Employee participation
You cán and must harness the power of the people. Not only using education, leadership and HR, but also through employee participation (EP). The rules for employee engagement in education can differ from country to country. In general, such as in The Netherlands, an employee council has the right to engage all relevant employees to advice leadership regarding a variety of topics and draft-decisions. For EP to be effective, you need a periodic or ad hoc instrument to reach (a very large group of) your employees. CircleLytics has proven to be excellent for this: all the polls, surveys, and newsletters cannot compete with the rejuvenation of employee participation. CircleLytics' impact is easy to achieve, and management teams and employees are clearly noticing it.
If you have been inspired by the way that other educational institutions make impact with dialogue & collective intelligence, now is the time to plan your introduction meeting with us.