Dialogue is indeed something else than a meeting, a good conversation or a pleasant gathering. Also, online is something else than sitting together in a room. Limited to a few people or a large group? Finish in an hour or time for slowing-down and reflection? What working methods do you choose? Do you combine working methods? In this blog we will tell you how we see it, bringing in our knowledge and our experience. Nobody wants a meeting culture anymore, and people are already looking for other ways of working than video conferencing as an alternative. Video is still a meeting, with the usual suspects, and that doesn't feel good. On to a dialogue culture?
Dialogue or conversation? Is there a difference?
Yes, absolutely. A conversation is an exchange of all kinds of information. How are you doing? How is your project going? What have you learned? Shall we go through our presentation again? How shall we handle our conversation with the prospect tomorrow? You probably have these kinds of conversations and (video) meetings all day long with colleagues or a whole team. In our opinion, a good conversation or a good meeting is an effective exchange of information (preferably also an empathic one), where try to listen well and, for example, make agreements. A dialogue is something else, a very different, new way of working (even though the word dialogue is used all the time). You are in dialogue when you actively seek out how others see things, other than how you see them. You want to learn from this, and for others to do the same among themselves. Afterwards, you – or together with others – will arrive at new insights. Different insights and therefore choices than anyone could have imagined. Advancing insights and points of view; dialogue, that's hard work! Limiting the group size is an easy trap to fall into: you might think that the more people, the more possibilities of each person interacting with others. Of course, and you're right. That's the beauty of diversity of thoughts and increasing the group size. Don't back off you, dialogue requires this high intensity of interaction. And yes, you need technology for scaling up dialogue instead of falling back on old habits of "keeping the group size low to have an effective meeting". The power of effectiveness lies in the dynamics of true dialogue and including a wide diversity of thoughts. Not a limited set-up.
So far about the dialogue.
Now something about 'sitting in a room and seeing each other for an hour'.
Seeing is often very pleasant. It is personal. You can also talk about your holiday, work-related gossip about your boss, something fun that you experienced with a client the other day, etc. That personal touch is important for mutual relationships. You get to know each other better and can come to appreciate each other more. This is difficult online. In other words, you would like to keep that personal, that relationship side. But then those other sides, which are a bit less fun …. And they have such a strong impact on the content, on the involvement of people who are not there, on the quality and support of decision-making…
The other side …
A room is limiting
Every meeting room, including the virtual meeting room of Teams or Zoom, is limiting. You can't just have a discussion with dozens of people, let alone a real dialogue, because then you 'have' to listen to each other, and above all learn from everyone, and together come to (completely) new insights and choices. The space of physical or virtual walls limits your possibilities. A group of 5-15 people is often the maximum for such a way of working. And you're missing a lot of people; their ideas, their experience, their knowledge. This could be a choice; maybe you just don't want everyone to be able to contribute, or you are afraid that too many people will make listening (and learning) more difficult. Or you are afraid that too large a group will lead to chaos. Valid points if you're not familiar with new technology, but those types of working methods dó lead to limitations. The question is whether you want that and whether it can be done differently. The latter is a resounding yes. The Future of Work has long since begun, and digital transformation is already having an impact on how we work (together) and how we can better connect with each other. Whether you want it to be different, however …. is up to you. Did you know that larger groups are up to 60% more intelligent than the sum of individual intelligence? And 20% more creative if the group is more diverse?
That clock
It ticks by…. An hour passes quickly, as does a workshop. And yet you would like to be in true dialogue with the whole group. Time to listen, time to reflect, time to learn, and time to come to a supported new choice or idea: all this is quickly lost, what remains is a so-called 'good' conversation, a meeting. Another one. Especially the organizer is happy afterwards: we stayed within the time limit because "we don't want a meeting culture". The participants themselves leave frustrated but also relieved. Afterwards, they go into dialogue together, or the next day, without that clock ticking. But also without you. So you just don't know what you're missing. Literally. And that's what you're going to have to deal with along the way. Or they go into sabotage mode: all kinds of light and heavier forms of resistance manifest themselves: from responding late to e-mails, not doing exactly what is asked, whipping up sentiment etc.
Night's sleep
Remember that everyone's brain needs a night's sleep and will think about the issue differently the next day(s). You cannot achieve this with a (virtual) meeting. You would prefer to phase your meeting, to keep it in steps so that everyone can come to their senses. Iterating, in other words. By slowing down you can then speed up more intelligently. Our brain has a fast and a slow thinking phase. We will come back to how the CircleLytics online solution approaches this.
Curious? Plan your demo or just an exchange of thoughts with the CircleLytics team here.
Social influence
Whether you like it or not. People are sensitive to other people with positions, status, power, unpleasant manners, not listening, or who dominate a work format such as meetings. And even if you say: "now please let someone else speak" or "I would like it if we let each other finish", the tone is set. The tone and social factors influence the result. You run the risk of thinking you have support after the meeting and making weak decisions that cause discontent now or later. Don't forget that as a manager, you pay their mortgage and they don't just protest, not directly, if they are not involved, or not taken seriously. When these things accumulate, they become less satisfied, they start to resist. Then they tick it off somewhere on a study by HR. Or vote with their feet when an opportunity arises. Did you know that 30-50% of employees actively seek a new job? Did you know that many 'departure statistics' are already well over the top? We learn another perspective on social influence from the following quote, which is about the emergence of consensus in a meeting and the decrease of diversity in the dialogue, with a vulnerable result as a consequence:
"Group discussions, thinking that if you bring a group of people together, those people will tell you their point of view in an honest way. But there's substantial research showing that that isn't what happens when a group comes together to discuss anything. Anyone who's been in a meeting has seen this. Once consensus starts to form, it generates its own momentum. It's like a snowball that turns into an avalanche of consensus. And at that point, people no longer offer up their true perspective. (Annie Duke in Strategy+Business)."
It can be done differently….
First, a calculation
How many changes and choices are there in your organization that you want to put your heads together for? Do you want to understand together, list the options, make decisions and get on with it? 10 times something big per month?
Let's say you have 3,000 employees. To gain reliable insights and make decisions, you prefer to hear all their diverse opinions. Statistically speaking, you're only doing a valid and representative job if you have involved at least 300 employees. With group sizes of 15 people, that's at least 20 meetings. With 10 major changes/choices a month…. that is more than 200 meetings a month ….
From the perspective of employee engagement and diversity & inclusion, you would really want to involve everyone in issues that affect them. All 3,000 of them! After all, the more diverse and complete the group, the smarter the result and the more involved and inclusive it becomes. It is also enormously motivating to be able to dive into an issue. Did you know that? Is it the same for you?
This means about 3,000 employees, in groups of 15, 200 groups …. 10x a month…. a total of 2,000 meetings. So to get everyone involved in the really big things of the organization…. you would be holding meetings day and night. And how do you record, observe, combine, reflect? And how do you then learn from this? Our answer is: you don't.
Read here also our blog "More diversity means more dialogue. Our new 2nd round"
Can we agree that it doesn't work? Agree that nobody will do this..
That is why organizations fall back on the familiar: a few groups, some workshops, unclear composition, limited time, no reflection, and often the same people talking … But manageable and recognizable … employees are not happy and inspired by that. They prefer to co-create and to get their teeth into something. Being useful, being wanted, being recognized, being seen. That's good, because if they want to and you want multiple perspectives and insights to make better decisions…. 1 +1 = 3, you'd think?
Now for the dialogue as a working method
Dialogue requires you to look for other perspectives and rethink the issue. Together. Preferably with as large a group as possible. Inclusive. Diverse. CircleLytics Dialogue can be used as a working method for groups of 10 to 100,000 people. For the participants it is mutually anonymous, so they can speak freely in the absence of hierarchy, and in the absence of social influence. These are preconditions. The book "Over Dialoog" (about dialogue ed.) by physicist and philosopher David Bohm is worth reading. By the way, did you know that in this book, he describes that the minimum number of people needed for a dialogue is 20? This increases the chance that you are with people who fall outside your immediate team/project group and have different opinions from you, which is necessary: only other opinions are different. Sounds logical.
The dialogue is held in two rounds and lasts a few days, so they are free to think, reflect, sleep on it. That means that today you can approach your 3,000 employees from the example with (open-ended) questions that truly matter, challenge them and involve them transparently in difficult topics. They get to work online, anonymously. The first 100s of answers and ideas roll in and the days after that it continues. A few days later, via a unique 2nd round, they reflect on each other's anonymous answers: they rate them and enrich them with their own words. This arrives in real time bundled within days, and ready to use in order of 'most favourite and why' in your dashboard. Ready to walk the talk!
What are the benefits such a dialogue?
Firstly, speed. A (video) meeting, workshop or digital pressure-cooking session delivers fake speed. By slowing down via 2 rounds, as we do, and giving participants a few days' time, people think better. Those few days of delay deliver unprecedented benefits later in your decision-making, in the knowledge that you have built a strong support base. Because that's what you do: build support. You gain support by questioning all the people who are relevant to the issue, or vice versa: who is affected by the issue? People feel involved, they actively participate, and say what they really think. This will truly speed up the implementation of decisions, changes and plans.
Secondly, reliability. The technology helps to process all the data quickly and without error, cluster them. This is to register a change of thinking, how they reacted to each other's opinions. Everything is in real-time. No manual work. No human errors. No subjective processing of data. You can build on the results of the online dialogue and follow up with decisions. Instantly.
Thirdly, diversity. By collecting so many perspectives from people and letting them learn from each other's perspectives, you will maximize diversity. This demonstrably benefits your result and reduces risk by up to 30%. It is the different ways of thinking that make decisions so good. Thanks to the structured CircleLytics Dialogue in 2 rounds, there is no longer any risk of your or someone else's prejudices creeping in and causing you to make mistakes.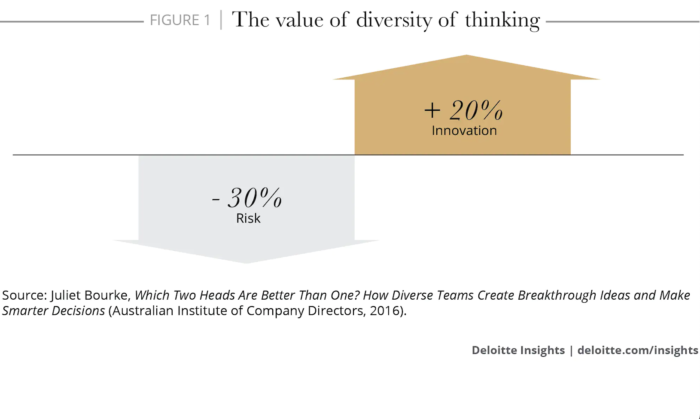 Towards a culture of dialogue
By setting up these kinds of interventions with the relevant, largest possible group for different subjects, you – as an organization –  will become intelligent, self-learning and quick. You will become more successful as a network organization. Employees are not an organizational chart but a living network. Compare it to your brain to which you are constantly asking questions: from "can I cross here" to "how to react to a new situation". Together, employees are one big brain. Don't switch off a part, because you don't know what you are missing. Your brain, your network of employees know whether they can contribute. They work in your organization on a voluntary basis and can find other work today: give them some credit: they know and see so much!
CircleLytics Dialogue can be used for 100s of situations and topics, such as:
– Co-creation: organizing brainstorm sessions and co-create with any group size and get the most creative results together within days to a maximum of 2 weeks.
– Conducting meetings: ask the relevant, largest group questions and then immediately ask for recommendations and the how/why.
– Continuously adjusting the execution of work/decisions: asking for feedback and feedforward on changes, projects, product launches, etc.
– Management or CEO (lunch) meetings or the Works Council: first make sure you know the concerns of the relevant group of employees, opportunities, obstacles and the questions you want to ask them.
– Taking decisions: present dilemmas, bottlenecks and choices and quickly come to well-founded decisions together
If you want to know more about designing solid, open-ended questions, download our White Paper here, containing 18 principles for designing your own questions. It will help you in dialogues, interviews, workshops and maybe even at home…
Do you combine the online dialogue with offline?
Yes, certainly. Many organizations combine online co-creation with offline meetings for decision-making, project design, budget allocation, and many other things. The enrichment is huge. After the offline meeting, the large group can be re-engaged to organize participatory decision-making and later to monitor and adjust change processes, i.e. continuous improvement. We call such a dialogue culture an expression of distributed leadership and benefitting from hybrid intelligence. Co-creation and dialogue makes everyone – individually and collectively – co-leader of a problem, of the solution, of decision making and of successful implementation. Ready for the Future of Work!
Intrigued and curious to see how CircleLytics Dialogue works, creates value and can be launched within days? Plan your meeting instantly here.