Employee engagement, hence employees' thriving, can't wait for a pulse or once-in-a-while generic employee survey by HR.  Management and HR have to answer the same question every day, and work side-by-side: "how can we create a future of work & employee experience today that make people and work prosper and grow successfully?". And yes, the way you formulate your answer to this question in your company is probably better yet pretty much the same: HR is not a silo and has to create value right in the heart of matters: the intersection of people and corporate performance. We need co-creation based on collective intelligence.
CircleLytics Dialogue is developed to perform at this precise intersection. Right where value creation is residing. Where people and teams have to perform and make sense of things. Since we're wired to connect, to share, to collaborate, we believe CircleLytics is at its best where co-creation is needed mostly, and decisions have to be constructed by, instead of about, the people. Where it's needed mostly for employees and managers to make their valuable work happen. Organizational success hinges on the ability of people collaborating efficiently, hence, understanding how information is collectively processed has become critical to solve complex problems. Their cognitive and creative performance, i.e. their collective intelligence and collaboration, is essential to getting these problems solved. You can only win together. In this blog, we focus on a few winning elements to your organization's success:
co-creation
collaboration & learning
data processing & intelligence
employee experience.
Help managers take action based on co-creation
At CircleLytics, we believe it's just not good enough for HR to measure employee engagement & experience and send number-driven reports to management teams. Neither to suggest to managers that adding some word clouds and algorithm-driven topics derived from a few comment boxes are considered actionable results. Surprise: they can't be, and your managers know this. And … probably told you a few times (hopefully they don't hold back on this, to us they do tell). We believe HR has to step up their game and extend their technology to perform in the heart of matters: delivering business performance with employees every day; with them, side-by-side with business management and their teams. Engage employees daily to drive experience, retention and corporate performance. It's simply, in Josh Bersin's words about "helping managers take action". The picture below illustrates his maturity model of employee engagement. From again another engagement survey to the enablement of managers to follow up on recommendations and learn from behavioural data. CircleLytics is developed to stop the pain of survey fatigue and create an experience that people embrace and turn them into one big brain to solve any matter at hand. Need recommendations? Ask for them and you will get them. Need solutions for problem ABC? Ask for them and you will get them. Need to know the next ambitious, doable milestone for project XYZ? Ask for it and you will get it. Why are people considering leaving? Ask them and you will get the answer.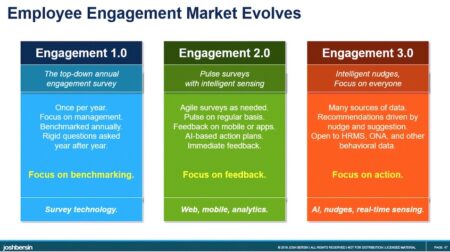 Other thought leaders are increasingly refocusing HR / HCM (or for the first time) on delivering value. Ben Whitter (read for example "Human Experience at Work") understands and urges us all to "co-create at a deeper level with people" and make people be partners in driving work from the outset. He mentions that there's no escaping co-creation and sees co-creation as not only making sense for business performance but also the human approach. "Co-creation is a commitment to make progress with people, not through them".
Delivering value of co-creation, is more than just a tool
We also like to mention Hein Knaapen, former CHRO for blue chips such as KPN, ING and DSM. In his well-articulated and inspiring writing about delivering business value instead of HR just buying another tool, he shares the following: "Whenever I gave in to fashionable solutions that, in fact, had no meaningful link to corporate performance, my impact was elusive. Whenever I understood the acute relevance of a need to enable value creation, I was always able to muster the support of the CEO and drive solutions that actually improved the company's performance."
We believe HR and management will collaborate more and more to engage employees and solve daily company problems in a collaborative way in one go. We're here to break through silos and make that co-creation happen. Ben Whitter is asking how companies can co-create at a deeper level with people, right? Our answer is to engage employees using the power of deliberate open-ended questions, having them collaborate and reflect on answers, so that bigger solutions, and action-driven results emerge. The merits and science of collective intelligence (CI) deliver results that you didn't know of before. Mere crowdsourcing is not enough. It's about adding collaboration to crowdsourcing and capturing the amazing effects of people interacting with other people's ideas and thoughts. That's the process you're looking for. Collective intelligence brings out 20-60% more intelligence and creativity, without adding more people. More value, without more people. Let's see how collective intelligence, crowdsourcing and CircleLytics Dialogue work, and run you by the criteria that we believe you should keep in mind when selecting your elevated, next-level crowdsourcing solution, or better yet: your collective intelligence solution.
What's crowdsourcing again and why wasn't it enough?
Crowdsourcing is based on the assumption that problems can be decomposed into parts that can be solved by widely distributed, independent workers. Companies and people can ask tough questions to large internal or external groups and chances are that this brings out the best solution. CircleLytics Dialogue's first round is like that: you ask many people (can be 10,000s) for their best ideas, problem analysis, or improvements on any challenge you may encounter. Our language processing technology enables you to capture key results in a variety of ways. However, there is increasing evidence of the "importance of collaboration to innovation, and the underperformance of groups that don't work with a sufficiently high level of interdependence". (Easier than reading that is to learn from our customer data proof points by the way: they paved your way and delivered amazing value via 2,000+ dialogues). How do you add the power of learning and collaboration to traditional crowdsourcing? Let's explain how CircleLytics Dialogue combines the best of both words: people with various levels of cognitive abilities, knowledge and skills, and their power of collaboration.
Dialogue: the answer to your company's need for co-creation
Dialogue means that people deliberately look for new information and perspectives to evolve their thinking, hence their own points of view, and emerge (completely) new ideas and thoughts. Without dialogue, you're condemned to limit yourself to a simple word count, topic modelling, and computer-driven language processing, based on a bag of textual answers to a question. And that's just unacceptably too little for your precious people and company. The CircleLytics Dialogue solution offers employees (or any type of participants) a unique 2nd round, in which participants give meaning to each other's anonymized answers and ideas, and enrich these by keeping scores, tagging key words and adding valuable comments to their scores. Customer data, hence human logic as well, proves that participants simply love it; you take them seriously, satisfy their curiosity, and give them a voice. That's a party for people's hearts and minds. We're wired for co-creation.
Don't underestimate the 1st round: this is already very appealing and trust-building. Deliberate open-ended questions are simply what they're waiting for. The 2nd round engages participants even more deeply in a totally new fashion. Can you image that our 5+ year customer data proves that more than 70% of participants read through / review more than 15 answers from others? And over 40% of participants even more than 30. In other words, it's apparently a wonderful employee experience. In addition, three important things happen:
participants show a preference for answers that DO NOT resemble their own answers; they are indeed opening up to other participants' perspectives, which is an amazing learning experience
participants are open to this 2nd round's collective effort: they're part of something more grand and meaningful than 'trying to make my answer win': they're ok to let go of their original answer, which means that you DO NOT have any fear of 1,000s of participants expecting that you follow up on their own answer; it's the collective outcome that wins
people's brains learn to adapt and open up to different perspectives, novelty and change.
Dialogue dynamics are critical to gaining collective intelligence and getting to co-creation. By having participants learn, listen and reflect, new thoughts emerge, without any fear of letting go of their own previous thoughts. Second, more thoughtful thoughts are more valuable. This type of intelligence is the highest form of cognitive and creative intelligence you can get from a human group intervention. That's pretty crucial in an ever-changing world and market. Co-creation will be more and more in the heart of matters, people and teams. We expect that tomorrow's HR leadership will bring technology such as CircleLytics Dialogue to managers and their teams, and board rooms to engage all employees and move performance forward in one go. Engagement is a joint effort, not anyone's exclusive domain. Especially not HR's we believe. It's just smarter and better to solve company matters together.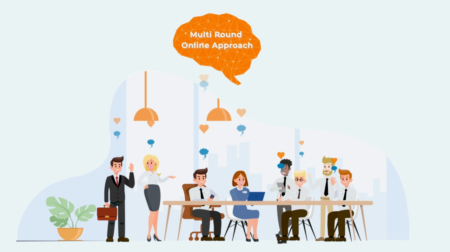 Now let's see what's important in selecting the best solution. Even if it means you'd select other technology than CircleLytics Dialogue, at least let's share with you what we think is important and why.
Scalability and pricing: don't get stuck
Choose technology that's robust and consistent for any group size. Why? You probably have various teams, of various sizes, and from time to time you want to tap into the wisdom of the collective of maybe 10,000s of employees. CircleLytics Dialogue is scalable for any group size and algorithms, dashboard, etc work consistently no matter what. Watch out for vendors that focus on one-off projects. Usually, you spend quite a bit of money on consultancy, it's not up and running in a day or so, and receive a stiff invoice. Collective intelligence, or elevated crowdsourcing, is here to stay and part of a manager's daily workflow, engaged employees, and performance culture. You need to scale up, down, left, right, as flexibly as is required. Make sure your vendor's pricing and product offering are flexible as well. CircleLytics Dialogue offers a 100% transparent pricing scheme and allows you to get what you need or stop when you want. To never get stuck.
Choose collective over swarm intelligence. Humans over bees.
Choose collective intelligence-based technology when working with people. Listen to the great video in the CircleLytics playlist of prof Robert Sapolsky about the difference between swarm and collective intelligence. The latter is often known by the name wisdom of crowd. Basically the participants (agents) in swarm intelligence-based solutions refer to animals such as bees and ants and its main driver is survival, i.e. food. However, swarms make suboptimal decisions and can even cease to exist because of their swarming behaviour. They get stuck when swarming after a not so smart peer, in the absence of patience, i.e. time to reflect and iterate other ideas as well. However, when you apply collective intelligence and meet the requirements like we applied in CircleLytics Dialogue, you secure a superior outcome since the process allows for a massive number of iterations and interactions between agents and other agents' ideas. More simply put; you get a more intelligent result in the same amount of time.
Intuitiveness: don't make users think too much before going live
You probably want to scale up your solution throughout the whole company. Solving complex problems, change and engaging employees to the max is all here to stay and all around us. Now, or in time, many managers and teams need to be facilitated to tap into the collective wisdom of their team, department or business unit and have the best-in-class technology to do so. That requires a platform that's easy to understand and apply, while maintaining the necessary control at a central level. With only some online training, tutorials and from time to time a blog with tips.
Mere-exposure bias: words or topics that are mentioned a lot are NOT simply the best
Avoid the trap of mere-exposure bias (mere-frequency bias): most survey and crowd sourcing tools sponsor unfortunately this ugly bias. Their technology gives priority by-design to contributions and words that are mentioned simply more often …. we all know that's not smart. To put it mildly. Avoid topic modelling, word counts/clouds that forgot about this bias. Whether it concerns supervised or un-supervised topic modelling. It's not about appearances of words; it's about the sentiment and importance that are allocating by others. That's why the CircleLytics Dialogue distributes all input in a subsequent 2nd round and enables everyone to keep scores (-3 to +3), tag words and add comments. The aggregation of these scores and enrichments feed our AI, topic modelling, NLP, etc. We offer unsupervised and supervised topic modelling by the way. The richness of data is unique and you don't want to miss out on that before jumping to algorithms. First the human mind, then the algorithms. So, stop hurting your decision making by relying on single round surveys with too-easy-to-be-true topic modelling, NLP and sentiment analysis. Your decision making needs the richness of others attributing importance.
Asynchronous process: don't give preference to people that speak up faster than others
Make sure your technology avoids responses that came in first, are served first. It's quite basic, but there are tools in the market that care less about this and bias faster respondents. Ouch… We all know that thinking takes time, creativity takes time. Faster is definitely not better. Remember introverts? A good night's sleep first? Our brains need to slow down to perform at its best. Nobel Prize winner Kahneman wrote about this in his famous book/video "Thinking, Fast and Slow" on the dynamics of the human brain and our thinking. We only slow people down just enough to get the best of their thinking. To release their power to reflect on themselves and each other. You are compensated generously by getting recommendations and actionable results! Look at this picture for a moment. In blue, you see that most positive scores are given to opinions/ideas that came in last during the 1st round (input-round). The fast response is simply not the best response.

Allow radical honesty: don't hold them back to vote ideas down, not only up
Enable people to vote things down. Yes. And enable them to explain why. Don't forget that people do have think about things that don't work, that can be risky, or even harmful to corporate performance or your company's reputation. You want to know those things. And you want to know why, and not look the other way. Be aware of the contraire and what might cause people's resistance to some ideas. This is important to people: show you're really open to all of their thoughts. This way, you gain insights that help you to implement and get support for your decision making later on.
Eye candy is sweet, game-changing insights are smarter
Candy comes at a price; you may be sweetened by technology that looks very fast and easy for respondents. Swipe a bit, be easy on the questions you ask them. But do you know that the brain needs to be challenged?  Needs nutrition before candy? In science this is known as people's need for rational overrides to disrupt mindlessness. Simply put: not only your deliberate open-ended questions must challenge people's thought process, the technology applied as well. It's a balancing act to maximize experience and maximize their brain processes (opening up, thinking, creating, reflecting). To share just a bit of data, the picture below shows the average uptake in the 2nd round, in which 70% of the respondents review more than 15 opinions from others! In the CircleLytics Dialogue, participants score between -3 and +3, tag words, and even enrich their scores with comments. That's a lot of work, you'd say. We and participants say; it's just an amazing engaging experience for them and a proven welcome investment of their time.

So, that brings us ….
Choosing your elevated crowdsourcing requires a bit of preparation. To us, our customers, and to science, collective intelligence out-smartens swarm intelligence and legacy crowdsourcing solutions. We've shared the proof points we've gathered from 300+ companies for a better understanding of what makes people, your business challenges and CircleLytics Dialogue a unique match.
Contact us today to understand your needs, we'll set you up for a demo!